Bhebk A'amin (Arabic for "I want You Safe"
//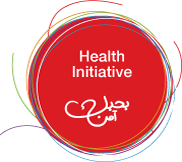 Bhebk A'amin (Arabic for "I want You Safe"
Bhebek Aamin (Arabic for "I Want You Safe") is a unique health initiative that was established by alQaws in 2009 to provide much-needed sexual health information to the Palestinian LGBTQ community. Bhebek Aamin is run by alQaws activists with an emphasis on offering friendly and accessible information about safe sex. In addition to providing sexual health information to individuals, the project seeks to raise awareness about the health concerns and needs of the Palestinian LGBTQ community to healthcare professionals, clinics and major healthcare organizations. Through its workshops and media campaigns, Bhebek Aamin aims to develop a positive attitude towards sex and address misconceptions about sexual health.
In December 2011, Bhebek Aamin teamed up with alQaws' party organizers to help raise awareness about sexual health at alQaws' bi-monthly queer party. Bhebek Aamin produced a series of fliers, stickers and T-shirts with information about HIV, AIDS and STDs in colloquial Palestinian Arabic. Over 500 condoms, donated to Bhebek Aamin by Durex, were distributed to party goers, and an anonymous HIV and STD testing station was set up free of charge thanks to the Lewinsky Clinic. The campaign was a great success. Some 400 people attended the party and the HIV and STD testing station proved popular amongst the partiers.
Over the next three years, we plan to expand Bhebek Aamin's team of young professional activists in the field of social work and medical care to further raise awareness about LGBTQ health concerns and needs. We are working to establish contacts with major health organizations. We are also preparing for our 2012 HIV awareness campaign, and will soon start to publish a series of monthly articles and materials on sexual health, queer sexuality and transgender health on Qadita.net and on alQaws' website.
For further information about Bhebek Aamin email us at: b7ebk.2amn@alqaws.org