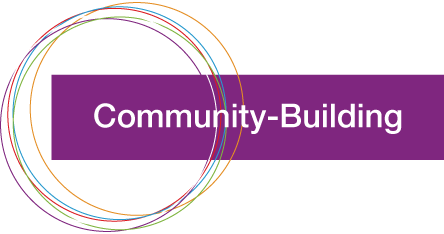 alQaws knows that community work on issues of sexual and gender diversity cannot develop without the integration of the groups who are most vulnerable to gender and sexual oppression. We continuously work to build up local and national leadership, especially amongst youth, to increase their awareness, influence, mandate, and social resilience. alQaws provides space, including community centers like our West Bank Community Center in Ramallah, for the development of strong, proactive, and politically aware communities of individuals who live and celebrate all layers of their identity. Across the areas where we work (in four hubs: Haifa in the North, East Jerusalem, Jaffa in the Center, and Ramallah in the West Bank), we run programs that provide rare creative, critical, and celebratory spaces in the domain of sexual and gender diversity:

West Bank Community Center
Our West Bank Community Center in Ramallah is not only a working space for our activists in the area, it is also a vital hub for all our West Bank outreach, networking, and leadership work, as well as a vibrant space for cultural and social events. The Center continues our efforts to institutionalize our activism and work in the West Bank, and we are seeing ever increasing signs that our work is being recognized as necessary, important, and desired.

At the Community Center, we hold activist groups and outreach programs, meet with new members from the Ramallah area, while conducting monthly outreach meetings in Nablus, Bethlehem, and more remote areas. We also program regular leadership building trainings, film screenings, Hawamesh Ramallah (intellectual monthly discussions built on the successful Hawamesh model in Haifa); cultural events like BBQs, hiking, and more; and listening sessions for activists to share stories and challenges.

Local & National LQBTQ Leadership
Building strong, diverse, confident, active LGBTQ communities is critical to our progress toward shifting our society's approach to sexual and gender diversity. We run regular local leadership building platforms in the West Bank, East Jerusalem, Yaffa, and Haifa, as well as large activist annual retreats that build alQaws' national leadership. Our leadership outreach focuses on engaging influential and marginalized individuals in our communities (such as youth, women, and trans*) so that we have a dynamic and accountable leadership.

Youth & Student Groups
We run youth groups focused on understanding and discussing sexuality and associated issues in relation to the individual, the family and community, and broader society and political and social change. Youth and student groups take place in rotating areas, such as East Jerusalem, Haifa, and Yaffa, bringing together youth from city hubs, as well as more remote areas. Groups are facilitated by an alQaws coordinator, and we created a new training guide that will allow us to train new coordinators and expand our groups even further. Our youth groups are frequently a first point of contact with youth who were previously unaware of our work, and many youth attend other activities or take on active roles within alQaws after their groups end.

Hawamesh Intellectual Discussion Series
We began our Hawamesh ("margins" in Arabic) monthly discussion forum in 2014 in Haifa, a hub for civil society organizations and influential cultural leaders in our society. Held at our office or in a popular Haifa café run by Almahata, Palestinian Youth Cooperative, Hawamesh quickly became widely popular with an engaged and diverse audience. True to its name, Hawamesh takes on topics widely seen as belonging to the margins of mainstream Palestinian culture, such as LGBTQ issues, and puts them in the center stage. In this way, Hawamish aims to fill a void in mainstream discourse by connecting topics traditionally considered insider issues exclusive to the LGBT community to a broadly relevant social and political context. Our monthly series now runs in both Haifa and Ramallah at our West Bank Community Center, reaching hundreds of activists and academics, as well as many other LGBTQ and non LGBTQ individuals interested in broadening their knowledge about sexual and gender issues in our society.

Queer Community Parties
We recently expanded this longstanding and incredibly popular social event—the largest gathering for LGBTQ Palestinians. Our monthly parties are now more than ever a platform for outreach and education, since, in 2016, we created educational materials and performances on sexual harassment, consent, and personal space. Parties reach several hundred participants each, with increased women's and trans*' participation after concerted outreach and promotion. We developed a social media plan for increasing alQaws' visibility online, including in social media and through our website, and published thought provoking visuals through every party that attracted a lot of attention online and offline. Our parties are a celebratory and safe space, but increasingly also a space to begin critical reflection or take the first steps to becoming alQaws activists and leaders.